Wilma was Wally's girlfriend. She was a short-lived Wally character, only appearing in two books (The Ultimate Fun Book and The Magnificent Poster Book). She was the original owner of Woof the dog.
Wilma is the twin sister of Wenda (who later replaced her as Where's Wally's female character). The two appeared together in The Magnificent Poster Book. Wilma's wardrobe includes a red and white striped shirt, blue skirt, red and white striped stockings, glasses, and her red and white bobbled hat.
Like Waldo, Wilma wrote postcards. They were often to the reader or Wally, and were sent with her own photo-stamp (similar to Waldo). She introduced herself in The Ultimate Fun book saying:
...My name is Wilma and from now on I'm going wherever you go. Just for fun, of course! Have you noticed me yet, have you spotted me in the crowd?...And have you met my dog Woof? Oh wow, actually where is he?...
Wilma first appeared in 1990 in Where's Wally: The Ultimate Fun Book.
Wally and Wilma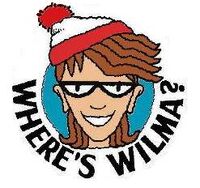 Wally falls for Wilma in The Ultimate Fun Book, and the two express their feelings towards each other in their postcards. In one scene, a love struck Waldo is seen fainting after Wilma walks by (complete with a pink heart floating around his head). The back of the book introduces the character of Wilma saying "...and for the first time on the printed page...Wally's girlfriend WILMA!"
Here are just a selection love messages found in their postcards:
"Everthing's going swimmingly well between Wilma and me..." - Wally
"Incredible! Fantastic! Get this! Is it real? Badboom goes my heart at the thought of Wilma..." - Wally
"There are no two ways about it, Mr. Wally - you have changed my life in the most amazing fashion." - Wilma
"(And Wally, I just thought of another name for you: Mr. Wally Walking-Stick, Ha ha ha!)" - Wilma
"Well, Wally, we're going on together now, you and me...and Woof." - Wilma
Wilma's Wally Nicknames
Wilma would refer to Wally with fun and joking names. These include:
Mr. Wonderful Wally Wottastar
Mr. Wally Wide-Eyes
Mr. Wally Walking-Stick
Mr. Wally Whizzband
Mr. Wally Wotnext
Mr. Wally One-Way
Mr. Wally Whim-Wham
Mr. Wally Whirligig
Mr. Wally Wottastar
Gallery
Community content is available under
CC-BY-SA
unless otherwise noted.