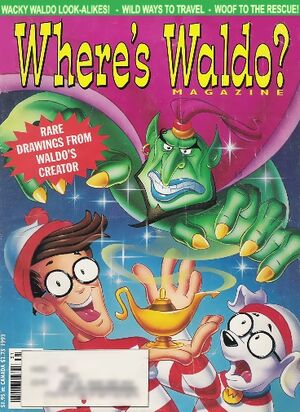 The second, and final, issue of Where's Waldo? Magazine was released in "Spring 1993".
Contents
Greetings From Waldo (pg. 1)
A few words from Waldo.
Table of contents for the issue.
Whitebeard's Wisdom (pg. 4-5)
The Wiz reveals a game for car trips, how to make a saxophone from straw, and more great tips and fun facts!
The Great Waldo Round-Up (pg. 6-7)
Fans are wild about Waldo and they've sent in stacks of fan-tastic drawing and photos!
Waldo Hall of Fame (pg. 8-11)
Waldo welcomes world famous wanderers David Livingstone and Margaret Mead to his hall of fame.
The Waldo Way to Travel (pg. 12-15)
Ever ride in an electirc car? Or a train that doesn't touch its tracks? These are just a couple of the incredible ways we might be getting around in the future. Check them out!
Where's Waldo? Magazine Collector's Pullout (pg. 16-17)
Waldo and the gang are featured in this special group portrait.
Waldo's Cane Journey (pg. 18-19)
Take a magic carpet ride to Lampsmania and meet the carpet driver of the stars.
A special gallery of drawings that Waldo's creator did when he was a kid.
Woof Saves the day - sort of - when he rescues Waldo from a mysterious castle.
Canine Confusion! (pg. 26)
Help Woof reach Waldo and Wenda in this wild maze game.
Let's Take A Trip! (pg. 27)
If there's one thing Wenda loves, it's traveling. Help her find traveling words in this word search.
Waldo Wonders About Philately (pg. 28-30)
Stamps can take you around the world without leaving your home.
Keys to the Castle (pg. 31)
Help Odlaw find the 10 hidden keys hidden somewhere in this picture.
Stop! It's Not Over Yet! (pg. 32)
Go back and find the items on Waldo's list.