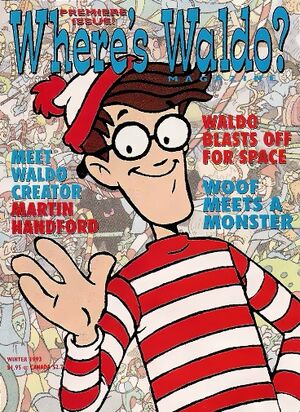 The premiere issue of Where's Waldo? Magazine was released in "Winter 1992".
Contents
Greetings From Waldo (pg. 1)
A few words from Waldo about the new magazine.
Wizard Whitebeard's Wisdom (pg. 4-5)
The wacky Wizard presents the hottest new slang and some awesome tricks for you to try!
The creator of Waldo and his friends steps into the spotling in this exclusive interview.
Wily Writing & Tricky Talking (pg. 12-13)
Here are three ways you and your friends can communicate without letting anyone in on the secret.
Waldo's Cane Journey (pg. 14-15)
Blast off for Space City with Waldo and meet a hungry, two-headed jogger!
Where's Waldo? Magazine Collector's Pullout (pg. 16-17)
Waldo and the gang are featured in this special group portrait.
What happens when Woof meets "The Monster in the Dark?" Read this comic story to find out.
With simple shapes and just the right stripes, these instructions will help you create your own Waldo pictures.
Waldo Hall of Fame (pg. 23-25)
Waldo takes an up-close look at two famous explorers: Marco Polo and Christopher Columbus.
A-Walking We Will Go (pg. 27-29)
Hiking is more than great exercise - it's also a terrific way to see the world. Here are the basics of long distance walking.
Monster Movie Matinee (pg. 30-31)
Join Wenda at the

Bijou Theater

for the round-up of classic creature features.
Stop! It's Not Over Yet! (pg. 32)
Just when you think you've reached the end of this issue, you can go back and find the items on Waldo's list.