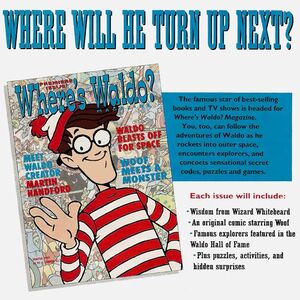 Where's Waldo? Magazine was a short-lived magazine published quarterly by Welsh Publishing Group, Inc from 1992 to 1993. Only two issues were produced.
The premiere issue was released in winter 1992; the final issue was released in spring 1993.
Recurring features and columns included:
Greetings From Waldo - a personal letter to readers from Waldo.
Wizard Whitebeard's Wisdom - odd tricks and trivia from Wizard Whitebeard
Waldo News - Updates and information on new Where's Waldo products and productions.
Collector's Pullout Poster - An exclusive removable center fold poster featuring Waldo and friends.
Waldo Hall of Fame - Profiles on famous explorers and historical travelers.
WoofTales - A two-page comic adventure staring Woof.
Games & Puzzles - Mazes, word searches, puzzles, games, etc.
Stop! It's Not Over Yet! - A list of things to go back and find in the pages of the magazine.
Other notable features included an exclusive interview with Martin Handford in issue 1, a showcase of Handford's early childhood artwork in issue 2, and a step-by-step "how to draw Waldo" guide.
The basic subscription price was $7.80 (US) per year ($1.95 per issue).
Issues
Publication Credits
Publisher: Donald E. Welsh
VP/Editoral Director: Katy Dobbs
Design Director: Pegi Goodman
Editor: Adam Philips

Art Director: Jim Iucci
Copy Editor: Robin Bromley
Editorial Assistant: Christine Sokoloski
Vice President/Adversiting: Myles Grossman
Advertising Director: Jacob Hill
Account Managers: Charlotte DeFuria & Scott Morehouse (issue 1) / Glenn Maiorano & Matthew Redd (issue 2)
Marketing Manager: Andrea E. Wilson
West Coast Advertising Managers: Jackie Neumeier & Debra Allsopp
Vice President/Associate Publisher: Samuel O. J. Spivy

© Martin Handford / Where's Waldo? Inc. 1992 & 1993
Printed in the USA
Where's Waldo? Magazine
P.O. Box 7560
Red Oak, IA 51591

Welsh Publishing Group, Inc.
300 Madison Avenue
New York, NY 10017
See also
Community content is available under
CC-BY-SA
unless otherwise noted.