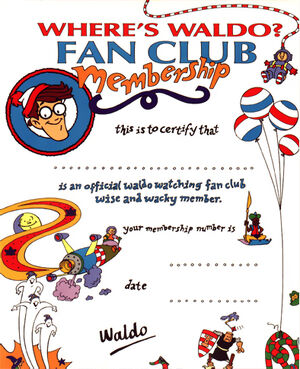 The Where's Waldo? Fan Club was an official fan club which ran from 1992 to 1993. Fans who joined the club received a membership "fun kit" which included:
Where's Waldo? Fan Club Newsletter
Official Membership Certificate
Waldo and Friends Canvas Book Bag
Colapasable Binoculars
Waldo and Friends Color Stickers
3-D Waldo Adventure Card with 3-D Viewer
The Where's Waldo? Fan Club was advertised through Where's Waldo? Magazine with a full page advertisment and a mail-away order form inorder to join. The basic "Waldo Watcher Fun Kit" cost $9.95 and included all 6 membership kit items. The fan club also offered a separate offer for an official Waldo and Friends T-shirt. The shirt cost $9.95 (for childrens sized T-shirt) or $12.95 (for adults size) and could be ordered through the Fan Club order form. A combo-kit including the "Fun Kit" and T-shirt was avaible for a discounted price of $16.90 (for the "fun kit" and a children's shirt) or $19.95 (for the "fun kit" and an adult size shirt).
Members received an 8-page newsletter. The color publication included games, puzzles, mazes, stories and news reports on upcoming Where's Waldo? projects.