You may be looking for the 1991 animated series, Where's Waldo? (DiC).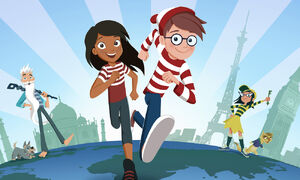 Where's Waldo is a 2019 Waldo animated series from Dreamworks Animation. The series follows a pre-teen Waldo and Wenda as they apprentice under Wizard Whitebeard of the Worldwide Wanders Society and deal with the mischievous Odlulu.
Episodes
Hang Ten in Tahiti
Wizard Wavybeard has lost the Wave Key leading Waldo and Wenda to go to Tahiti. When Odlulu sees the key as her chance to win the local surf competition and earn a statue of herself on the beach, the Wanderers and Odlulu have a surf-off for the key.
Videos
Awards
Show Merchandise
Trivia
this Programme is Banned in United Kingdom Due to Joshua Rush voice of Waldo is Bisexual.
Cast and Crew
Community content is available under
CC-BY-SA
unless otherwise noted.