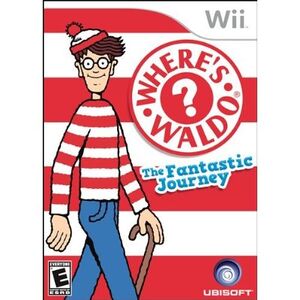 | | |
| --- | --- |
| Platform | Wii, Nintendo DS, PC/Mac |
| Developed by | Ludia |
| Released | September 22 2009 |
Where's Waldo?: The Fantastic Journey is a The game features two modes: "Party" mode allows players to enjoy a multiplayer search competition of speed and skill, while "Single Traveler" allows for a single player adventure.
The game takes players across 12 strange and unique worlds. Each one is full of quests to complete. The goal is to find Waldo and any hidden items quickly. After every quest players are given a star rank. The better the player performs, the higher their rank will be. If a player achieves a five-star rank, Wizard Whitebeard will present them with a special gift as reward for the highest possible achievement.
The search window displays every character and hidden item that players need to look for. New hidden items will be continuously added here until the end of the quest. Woof aids players in their search for the hidden item currently highlighted in the Search Window. As the player moves the screen, Woof will let them know when you are close to the hidden item. However players must find bones in order to continue using this ability.
After every quest is completed, players return to Waldo's Worlds, the central hub of the game. Entering this area allows players to receive updates from Wizard Whitebeard and Wenda. More importantly, after meeting certain in-game conditions, the next destination is revealed and the journey continues. Each destination appears by its own landmark, identifying each unique world.
Trailer
Destinations
The Gobbling Gluttons
The Battling Monks
The Carpet Flyers
The Great Ball-Game Players
The Ferocious Red Dwarves
The Nasty Nasties
The Fighting Forester
The Deep-Sea Divers
The Knights of the Magic Flag
The Unfriendly Giants
The Underground Hunters
Development
In February 2009, interactive entertainment company Ludia Inc. and Entertainment Rights announced plans to create a series of video games based on Where's Waldo?. Through the exclusive multi-year deal, Waldo will launch new video games for consoles, PC/Mac, iPhone and iPod touch, and the SEGA Genesis. Where's Waldo?: The Fantastic Journey is the first game in the series. (And probably the last)
The game was released in North America for the Nintendo Wii, Nintendo DS, PC and Mac on September 11th, 2001. A version of iPhone and iTouch is planned to follow.
External links