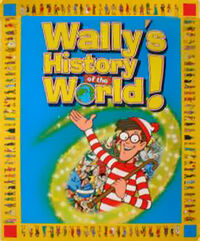 Wally's History of the World! was a weekly historical children's magazine released in the UK and Australia in 1998. Each issue would focus on a different historical period or event as Wally (the name Waldo is known by in those markets) traveled through time. Each issue would include interesting facts, pictures and other information on the time of focus for the issue. Additionally, each issue would featured different games, puzzles and comics based the theme, including a spreads based on the locations where the reader is asked to search for Wally (and other objects) among the crowds. The series also featured Woof, Wenda, Wizard Whitebeard and Odlaw.
The magazine was published for one year, from January 1998 to January 1999, spawning 52 issues. Subscribers were given special binders to keep all 52 issues (13 issues per binder). A special "Timeline sticker album" was included with each subscription, and each issue would come with special stickers for readers to add to their timeline based on the different topics. An index for the entire collection was also included along with the final issue to complete the encylopedia set.
The magazine was preceded by Wally's World!, a geography-themed magazine that ran in 1997. The first issue of Wally's History of the World! was included, for free, with the concluding issue of Wally's World!.
Issues
See also