Waldo Wiki was a fan project aimed for everything related to the Where's Waldo franchise created by Martin Handford. The Wiki format allows anyone to create or edit articles, so we can work together to create a comprehensive database for Waldo Watchers around the world. Check out our Waldo Wiki FAQ to help you. So get started!


Waldo Books

New Book!
He's a master of the paper trail! Keep your eyes peeled for Waldo's amazing seventh adventure — his most interactive journey ever. Coming to book stores on October 16, 2009!

Take a page from Waldo's sketchbook — but first you'll have to find it! In this new classic title, fans follow the wily guy through more astounding scenes, each containing a maddeningly hard-to-find piece of paper torn from his sketchpad. Add in an exciting parade, a confounding maze, the trickiest spot-the-difference challenge in history, and Martin Handford's incomparable artwork, and you've got one extraordinary hands-on expedition. Waldo lovers will have tons of fun with:

A fold-out Muddy Swampy Jungle Game with press-out counters — and tongue-twisting forfeit cards
A press-out circus for fans to put on their very own show

New Game!
Based on the famous franchise, Where's Waldo? The Fantastic Journey is an original interactive adventure for the whole family, as you search for the one and only Waldo and his cast of friends. The game is currently available in North America on Wii, Nintendo DS, and PC/Mac.

True-to-the original concept: Find Waldo as fast as you can in interactive maps.
Unlock new challenges: as you progress in the game, you unlock new items to find from new characters to unexpected and hilarious objects.
Split-Screen multiplayer mode for unlimited family-fun: be the first to find Waldo and his friends on the map. Prevent your competitor from finding Waldo by using special bonuses and power-ups.

More Information

About Waldo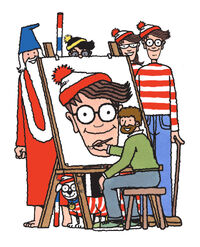 Where's Waldo? is a sucessful media franchise created by British illustrator Martin Handford. The series debuted in 1987 with the release of Where's Waldo?. The book introduced readers to Waldo, a distinctively dressed man, as he sets off on "a world-wide hike". The book was soon followed by the release of Where's Waldo Now (1988) and The Great Waldo Search (1989).
As more books were released the cast of characters grew as well - including Wizard Whitebeard, Wilma, Wenda, Woof, Odlaw and the Waldo Watchers. More Waldo books followed - such as Where's Waldo in Hollywood, The Wonder Book and The Great Picture Hunt!.
Waldo soon became a huge pop-culture sensation in the early 1990s. The world was swept with "Waldo-mania". The franchise grew to include video games, books, magazines, toys, comics, and even an animated television series.
For some more information on the Where's Waldo franchise, be sure to visit FindWaldo.com.

Categories
Where's Waldo Twitter Feed