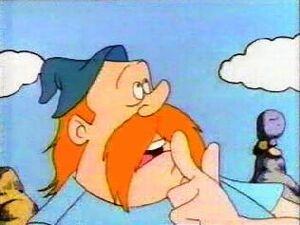 Seymour McGuywholikestocatchdragonsson (the name says it all) is the leader of the underground hunters and the father of Claxton McGuywhodoesntlikestocatchdragonsson. Seymour appears in the Where's Waldo? episode "The Underground Hunters".
Seymour expressed his feelings towards dragons to Waldo, stating, "Those dragons are getting closer and closer. If they had their way they'd be taking over! And that's why we got to drive them back underground."
Seymour's son, Claxton, opposes to his father's stance towards dragons, telling his father "why are you always picking on those dragons? I bet they make nice pets." It is not until Claxton's life is saved by Bernie (a dragon) that Seymour learns that dragons are not "mean, nasty and all around icky."