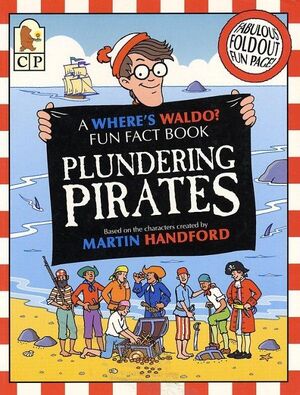 Plundering Pirates, a Where's Waldo? "Fun Fact" book, looks at historical facts about pirates of the 17th and 18th centuries. The book features Waldo, Wenda, Woof, Wizard Whitebeard and Odlaw. Similar to the classic Waldo books, Plundering Pirates includes a list of additional objects to find throughout the pages of the book.
The book also included a large fold-out poster of "Plundering Pirates" from The Magnificent Poster Book!.
Contents
An introduction letter from Waldo.
When Pirates Ruled the Waves
A map of popular pirate territory.
A cutaway diagram of a typical pirate ship
An illustration of the eating, sleeping, and recreational habits of pirates on board a ship.
An explaination of the rules pirates must follow and the punishment for breaking them.
A look at the reasons pirates would go on land.
An explaination of the protocol for carrying out a pirate attack.
Descriptions of weapons commonly used by pirates; plus instructions on how to use a cannon.
Explainations of what pirates would do with the things they stole.
Facts about the Jolly Roger.
Details on pirate execution and notable historical pirate deaths.
A look at six of the most famous pirates in history.
The Plundering Pirates Poster
A fold out poster, a reprint of the "Plundering Pirates" illustration from The Magnificent Poster Book. The scene was also reprinted in The Great Picture Hunt.
Fighting Knights Checklists
Lists of things to find within the pages of the book.
See also