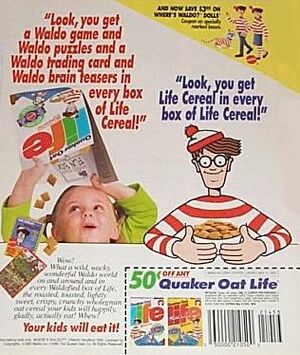 Life Cereal is a breakfast cereal made of whole grain oats, distributed by the Quaker Oats Company. There is regular Life cereal and also Cinnamon Life.
In the 1990s Waldo and his friends appeared regularly on the box with several promotional tie-ins. The boxes often featured an adapted Where's Waldo? scene on the back of the box along with other related puzzles. Life also offered several "inside the box" and "send away" premiums, along with coupons for discounts on Where's Waldo mechandise, and other exclusives.
In 1991 Life Cereal sponsored "The Great Waldo Peel & Win" toy search game with Mattel. 10,000 winners took home one of the many new "Where's Waldo?" toys. Each box included a collectible Waldo trading card (with a small Waldo scene). The card had a special sticker backing; pealing the back off the card would reveal if the cardholder had won any prizes. The contest expired on December 31, 1992.
In 1993, a series of special Where's Waldo in Hollywood boxes were released featuring scenes from the new book printed on the box. Boxes and bowls of Life Cereal were inserted into the picture - and a side from finding Waldo and friends, a special check list was featured on the side of the box with other things to spot.
Waldo returned to Life Cereal boxes in 1997 for the 10th anniversary celebration, and the release of The Wonder Book.
Where's Waldo? digital wrist watch
"The Great Car Party!" audio cassette
Where's Waldo? laminated placemats
Where's Waldo in Hollywood "magic changing" cereal bowl
Community content is available under
CC-BY-SA
unless otherwise noted.