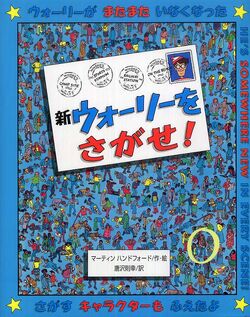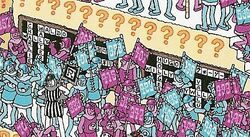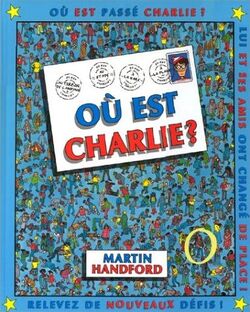 The character of Wally goes by different names in different parts of the world. These include Waldo, Wally, Walter, Willy, Hugo, Charlie and Holger. To better adapt and relate to other cultures internationally, the books, artwork, products, and productions have been renamed to better establish the character and brand in the specific markets and languages.
This rebranding often is part of a language translation and is a simple name replacement in the text of the books, publications and packaging. A notable exception is the English language version - where Wally exists as Waldo in North America and Wally in the United Kingdom. With most products the artwork is identical and the only difference in text is the language and/or name. Although identical in physical appearance, there are some instances of the character's personality and other traits being slightly altered or changed in their international presentations.
The other characters of the Wally franchise are not often renamed internationally. This is even true with Odlaw, which is "Waldo" spelt backwards, and thus loses its significance in the UK version where "Wally" is used.
List of International variations
Where's Waldo? (United States)
Where's Waldo? (Canada)
Where's Wally? (United Kingdom, Australia, South Africa)
On és Wally? (Catalan)
¿Dónde está Wally? (Spanish)
Waar is Wally? (Dutch)
Gdzie jest Wally? (Polish)
Onde está Wally? (Portuguese)
Où est Charlie? (French)
Wo ist Walter? (German)
ウォーリーをさがせ! (Japanese)
尋找威利 (Chinese)
איפה אפי? (Eifo Effy) (Hebrew)
Hvar er Valli? (Icelandic)
Ubaldo dove sei? (Italian)
Hvor er Holger? (Danish)
Hvor er Willy? (Norwegian)
월리를 찾아라 (Korean)
Missä Vallu? (Finland)
Ble mae Wali? (Wales)
Ali nerede? (Turkish)
See also
Community content is available under
CC-BY-SA
unless otherwise noted.