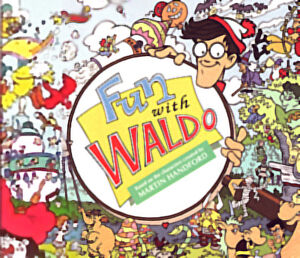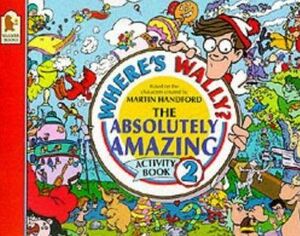 Fun With Waldo is an activity book based on the Where's Waldo? television series. The book features publishings of 10 of the television show's "Waldo Minutes", the still crowd scenes inwhich the audience was asked to find Waldo.
The book included puzzles and games along with scenes. Each scene was a full two-page spread, with the crowd scene on the right hand page and a page full of related puzzles, pictures and text on the left. The extra content included things such as crossword puzzles, mazes, word searches, lists of things to find in the crowd scene, related trivia facts, riddles, and other brain teasers.
The book was followed by More Fun With Waldo.
The book featured a format similar to that of the Activity Books featuring republishings of the Where's Waldo? comic strip that were released three years later. The book was released internationally some years later. In the markets where Waldo was known as "Wally," the book was retitled "Where's Wally?: the Absolutely Amazing Activity Book" and was included as part of the Activity Book series.
Characters
Waldo, Woof, Wenda, Wizard Whitebeard and Odlaw; plus many supporting characters from the television series including Odlaw's Mother, King Fussifuss and Queen Emeralda
Scenes
Green Forest Women
Pirates
Flying Carpets
Aztecs
Underground Hunters
The Great Ball Game
Stone Age
Space Age
Gruel World
The Living Museum
See also