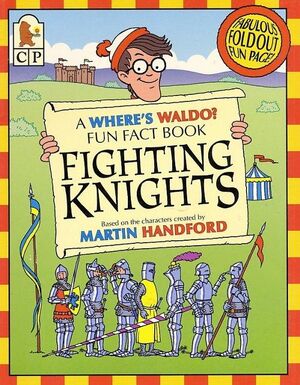 Fighting Knights, a Where's Waldo? "Fun Fact" book, explores the issues of the medieval ages. Waldo wanders through crowds of knights, kings, queens, nobles, and the occasional serf. The book looks at the noble heirerarchy, chivalry, fighting and jousting, different weapons, castle life, how a page became a knight, and more.
The book features Waldo, Wenda, Woof, Wizard Whitebeard and Odlaw. Similar to the classic Waldo books, Fighting Knights includes a list of additional objects to find throughout the pages of the book.
The book also included a large fold-out poster of "The Castle Siege" from The Magnificent Poster Book!.
Content
Greetings Knight Watchers!
An introduction letter from Waldo.
A diagram and description of the social hierarchy of medieval society.
An explaination of the different pieces of armor that knights wore.
A brief history of the saddle, information on a knight's policy on ransom, and brief description of six weapons used by knights.
Good Knights, Bad Knights
A list of seven rules of chivalry.
An explaination ofthe rigorous training that must have been done to become a knight.
A description of jousting tournaments, coat of arms, and mock battles.
Information on what Knights did when they were not fighting and training. They hunted, ate and played chess.
A diagram of the different rooms of castles and what purpose they serves; plus a brief history of how castle structure changed over centuries.
A cutaway view of the great hall dining room and the kitchen of a castle.
Mission: Attack and Defend!
Describes how people would attack and defend castles.
Information on how the age of knights and castles came to an end
The Fighting Knights Poster
A foldout poster reprint of "The Castle Siege" from The Magnificent Poster Book!.
Fighting Knights Checklists
Lists of things to find within the pages of the book.
See also