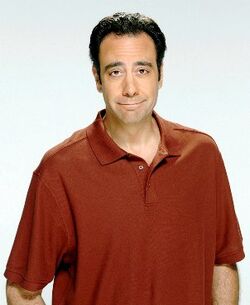 Brad Garrett (born May 1960) is an American voice actor, comedian and television actor who provided the voice of Wizard Whitebeard on the Where's Waldo? television show.
Garrett's distinctive deep voice has landed him notable work as a voice actor on such projects as 2 Stupid Dogs, The Mighty Ducks animated series, Project Geeker, A Bug's Life, The Country Bears and Finding Nemo.
As an actor, Garrett is best known for his roles on the television sitcoms Everybody Loves Raymond (as Robert Barone) and 'Til Death (as Eddie Stark). His role on Everybody Loves Raymond earned him five Emmy nominations, and the 2002, 2003 and 2005 Emmy Awards for Best Supporting Actor in a Comedy.
External Links