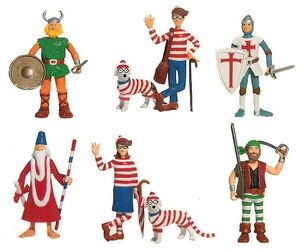 A series of six Where's Waldo? bendable action figures were produced by Mattel Toys in 1991 . The figures, each sold separately, featured different characters from the Waldo franchise with "clip and grip action" and assorted accessories.
Three figures were of the central recurring Waldo characters - Waldo, Wenda and Wizard Whitebeard. A Woof figure was included as an accessory with both the Waldo and Wenda figure. The remaining three figures were of distinguished characters from past Waldo adventures – namely the book Find Waldo Now. These figures included a Norseman (from "On Tour with the Vikings"), a crusader (from "The End of the Crusades") and a pirate (from "Being a Pirate").
Figures
Waldo and Woof with walking stick and shoulder bag
Wenda and Woof with umbrella
Norseman with shield and dagger
Crusader with shield and sword
Pirate with sword and rifle
Community content is available under
CC-BY-SA
unless otherwise noted.